WE WISH YOU
A HAPPY HOLIDAY
TRAVEL SIZE
THE PERFECT GIFT
TRAVEL SIZE
BUY 2 GET 3 !
The festive season is upon us: it's time to think about your Christmas gifts.
Our travel perfumes are the perfect way to discover our collection. They are like an invitation to a motionless journey where each inch of your skin becomes a new frontier, meant to reveal a new fragrance.
Wether it is for your friends, family or to indulge yourself, they are the perfect gift
Exclusive Olfactory Experience
Limited Edition
Exclusive Olfactory Experience
Jardins de Misfah
Limited Edition
This limited edition box includes one 100 ml bottle of Jardins de Misfah and four 5 ml bottles of the notes that compose the fragrance. This is a numbered limited edition of only 100 units.
Experience a unique olfactory journey by discovering 'Jardins de Misfah' from a new angle deconstructing the fragrance note by note. Immerse yourself in the creative process of a perfumer and discover how each individual note is artfully blended to craft an original fragrance
PERSONALIZED TWIST:
To tailor the original 'Jardins de Misfah' to your preference for a spicier, sweeter, or more floral scent, simply layer it with one of the four accord sprays to amplify your desired facet.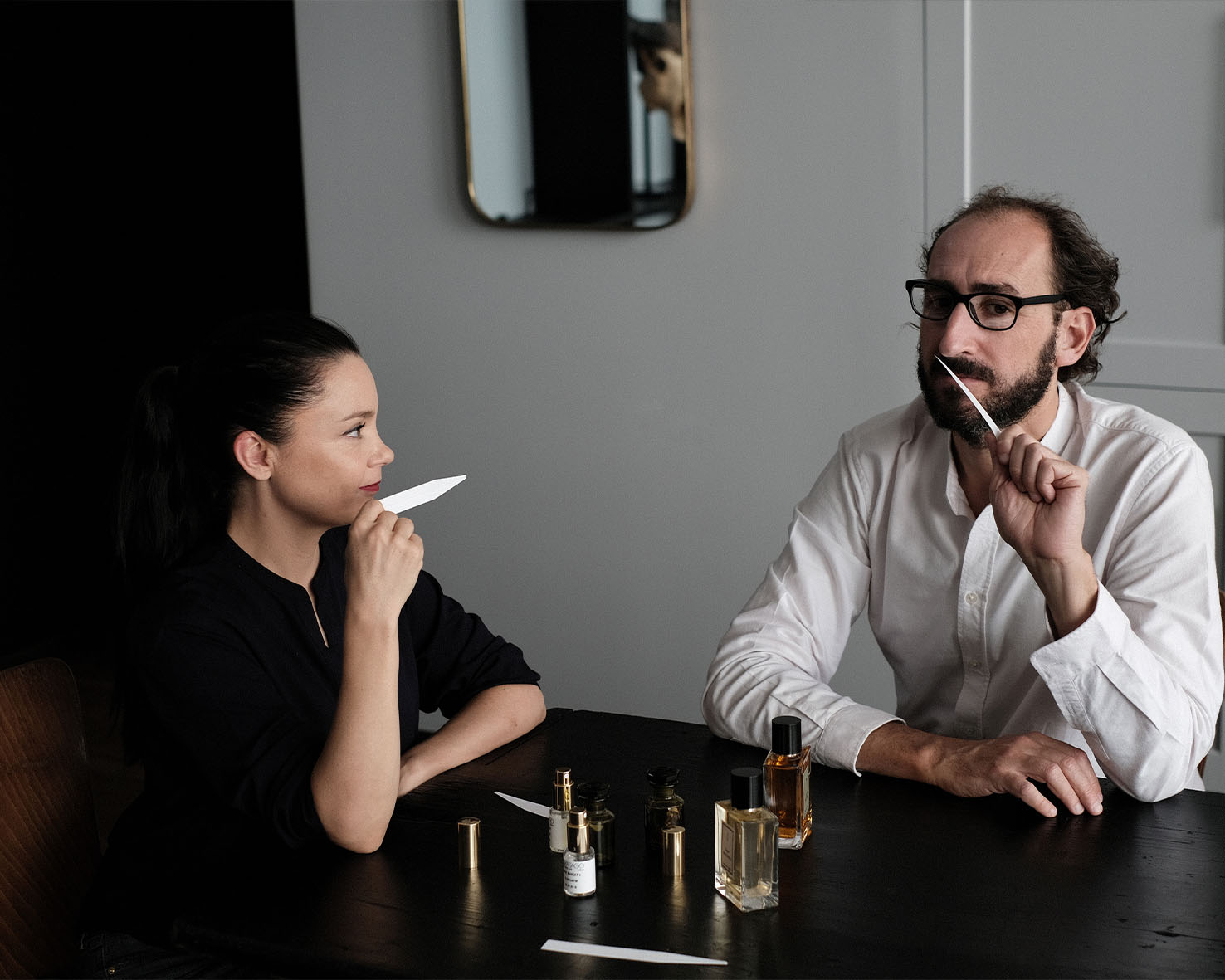 MEET
ALEXANDRA & PHILIPPE
Alexandra and Philippe collaborated at Universal Music, where Alexandra served as Artistic Director and Philippe as Marketing Director. They wanted to go to other places, explore other passions, become independent, create differently. They meet up to talk about travel, poetry, spirituality, nature, and a willingness to build something with sincerity and ethics.
After leaving Universal, Philippe trained in the practice of Shiatsu, a Japanese energy massage technique inspired by the benefits of Chinese medicine. A venture into the Asian heritage that still fascinates him.
For Alexandra, travel is more than just a need to explore, it is a philosophy of life. Always off the beaten path, she travels the world and its continents. At the age of 20, she puts on a backpack and sets off in search of breathtaking places where hotels are imbued with discreet luxury.
By imagining 'Une Nuit Nomade', they convey their desire for French elegance, storytelling, and a love of changing landscapes. It is a call to live a unique sensory experience. An olfactory approach to the world where nature and luxury are inseparable.